Online Class: Bartending and Mixology 101
---

$
50.00
no certificate
- OR -
$
75.00
with CEU Certificate*
7

10

5,219

Students

have taken this course

3

0.3
Do you love making people happy, making friends, and being the life of the party? Do you mind having other people take you into their confidence and trust you with their best evenings? Do you enjoy the difference between how things taste on the palette and don't mind staying up late into the evening? Bartending is for you. This course will give you the knowledge to join the ranks of one of the world's most respected professions and one with never a dull moment. From the basics of what you need to start out to how to excel at the craft, this course will leave you in the know.
A typical bartending guidebook simply gives you a set of drink recipes, but we all know that each bartender has their own take on most drinks. We mix to our own preferences, or the preferences of our patrons. So what you really need to know is how things mix well together, how to keep your customers safe, and how to keep them tipping! That's the goal of this course--to give you what you really need to know, and prepare you for that all-star position!
Do you know the difference between a highball and a lowball?
How are Shirley Temples and Roy Rogers the same? How are they different?
Where should liqueurs and cordials be stored?
Knowing the answers to these questions and the many others you'll explore in Bartending 101 are essential to your overall bartending success whether your aims serve personal or professional purposes.
And the best part of this course is that it doesn't just aim to be a how to manual for the bartending career ladder. Its just as effective if your goals are a bit smaller in scope, like trying to impress dinner guests and social acquaintances or orchestrate corporate parties and events.
This class is conveniently self-paced, so you don't have to reschedule work or personal events in order to make the grade. After seven lessons, you'll have gained the skills and insights needed to transform yourself into a brilliant bartender.
Enrollment is continuous, so there's no reason to put it off any longer. Act now and you can take the mystery out of mixology.
Bartending 101 is an informational course (which basically means that it doesn't offer any licenses or certifications) geared towards anyone interested in improving personal or professional bartending skills. Although the course is open to anybody who is interested in mastering the essentials of bartending, if you're considering it professionally, you'll need to be at least 21 years old.
This course is a great choice for people who are self-motivating and able to stay on task without a whole lot of active participation from the class or teacher.
Bartending 101 is broken down into seven separate classes that center around five primary goals:
Familiarizing you with the rules and guidelines surrounding alcohol awareness in your state.
Teaching you how to set up your bar from where different bottles and brands go to which glass you should use.
Learning the differences between the drinks most especially the variations in alcoholic content.
Providing you with a wide variety of drink recipes more than enough to keep your customers and/or guests happy.
Arming you with a vast array of employment tips and tricks that you can use to gain a competitive edge in your local bartending arena.
It is an all-inclusive course, which means that all of the materials you'll need to pass are included in the lessons, links and assignments provided. Whether you dream of owning your own bar or night club, putting yourself through college or simply wowing your guests with a cocktail party they'll (hopefully) remember, Bartending 101 is the way to ensure that you can make it happen.
Bartending skills always have been and always will be in demand. Before you know it, you'll have all that you need to start splashing out daiquiris, martinis, screwdrivers and Harvey Wallbangers to your heart's content!
Completely Online
Self-Paced
Printable Lessons
Full HD Video
6 Months to Complete
24/7 Availability
Start Anytime
PC & Mac Compatible
Android & iOS Friendly
Accredited CEUs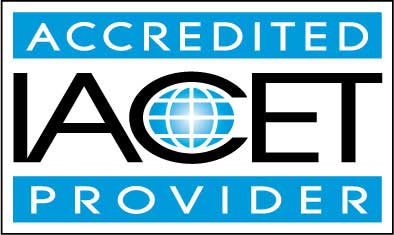 Lesson One: Alcohol Awareness
Perhaps the most important role of the barkeep is to walk the line between casual drinking and extreme intoxication. Additional lesson topics: Bartender Terminology; The Bartender's Black Book; Mixed Drinks and Cocktails; Hangover Remedies; Drink Dictionary
41

Total Points
Lesson 1 Video A
Lesson 1 Video B
Lesson 1 Video C
Lesson discussions: Reasons for Taking this Course
Complete: Lesson 1 Assignment
Assessment: Lesson 1 Exam
/ul>
Lesson Two: Bar Essentials - Alcohol
Here is a selection of alcohols any bartender should have on hand and know how to use, and terms you'll need to know. Additional lesson topics: Home Bar Essentials; Bar stock; Essential Spirits and Mixers to Stock in Your Bar
55

Total Points
Lesson 2 Video A
Lesson 2 Video B
Review Practice Worksheet: optional-WordSearch-Activity-7156.pdf
Assessment: Lesson 2 Exam
/ul>
Lesson Three: Bar Essentials - Additional Requirements
In addition to types of alcohol, you're going to need some items to throw into the mix in order to create a good number of frequently ordered drinks. Additional lesson topics: Glassware; Virgin Drinks/ non-alcoholic drinks; Several Essentials to Keep a Stocked Bar
0

Total Points
Lesson 3 Video
/ul>
Lesson Four: Cocktails
If you're in a nightclub, that may be all that is available to you; but cocktails run the gamut in terms of their unique and wonderful mixtures and flavors. Additional lesson topics: Lowball Drinks; Frozen Drink Recipes; The Difference Between Highball and Lowball Glasses; HighBall Drink Recipes
61

Total Points
Lesson 4 Video A
Lesson 4 Video B
Lesson 4 Video C
Lesson 4 Video D
Lesson 4 Video E
Complete: Lesson 4 Assignment
Assessment: Lesson 4 Exam (Highballs)
Assessment: Lesson 4 Exam - Various Drink Types
/ul>
Lesson Five: Beer, Wine, and Heated Drinks
Beer is generally much lower in alcoholic content than liquor, and is consumed in larger quantities. Additional lesson topics: Beer: The Perfect Pour; Types of Beer; How to Pour Beer the Right Way; Library of Recipes
52

Total Points
Lesson 5 Video A
Lesson 5 Video B
Complete: Lesson 5 Assignment
Assessment: Lesson 5 Exam
/ul>
Lesson Six: Types of Establishments
Alcohol is served in a variety of venues, each of which has their own norms, client types, and other characteristics. Here are some of them.
0

Total Points
Lesson 6 Video
/ul>
Lesson Seven: Employment
Bartending is one of those professions that very often leads to business ownership, especially as bar culture is so tied to generational differences. Additional lesson topics: Online Community of Bartenders; Bartender Employment
157

Total Points
Lesson 7 Video
Lesson discussions: Final Course Poll - Your Opinion; Program Evaluation Follow-up Survey (End of Course)
Complete: Lesson 7 Assignment
Assessment: Final Exam
/ul>
By successfully completing this course, students will be able to:
Summarize the symptoms, affect, and relavent laws regarding alcohol consumption.
Describe the essentials of the bar.
Summarize how to make highball drinks.
Summarize how to make lowballs.
Summarize the various procedures of making other drinks.
Describe how to mix, poor and serve shooters, floaters, wine and champagne, beer and coffee drinks.
Summarize the best methods to land a job.
Demonstrate mastery of lesson content at levels of 70% or higher.
Additional Course Information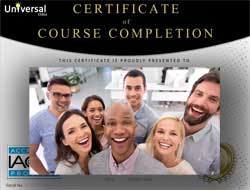 Document Your Lifelong Learning Achievements

Earn an Official Certificate Documenting Course Hours and CEUs
Verify Your Certificate with a Unique Serial Number Online
View and Share Your Certificate Online or Download/Print as PDF
Display Your Certificate on Your Resume and Promote Your Achievements Using Social Media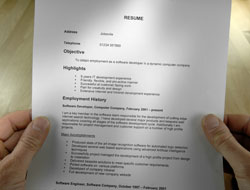 Course Title:
Bartending and Mixology 101
Lessons Rating:
4.5 / 5 Stars (2,062 votes)
Languages:
English - United States, Canada and other English speaking countries
Category:
Course Type:
Self-Paced, Online Class
Grading Policy:
Earn a final grade of 70% or higher to receive an online/downloadable CEU Certification documenting CEUs earned.
Assessment Method:
Lesson assignments and review exams
Instructor:
UniversalClass Instructional Team
Course Fee:
$75.00 U.S. dollars
Choose Your Subscription Plan
"Everyone should take this course, because people should know how tough bartenders have it." -- Kenneth C.
"Thank you. I learned alot. And you made it enjoyable to learn on line." -- Lynn C.
"The instructor was of great to help me." -- Parnesh G.
"The [part] that I found most helpful was pretty much all of it. It was well explained and easy to understand. Found it very interesting....I was really pleased that I took this course. It was really helpful and interesting." -- Shannon C.